Biography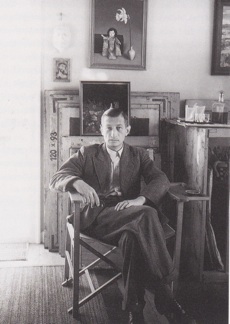 Wacker at the Age of 37
Rudolf Wacker was born on February 25, 1893 in Bregenz, the son of a successful architect. He discovered his love for painting early on and his parents supported his decision to be a professional artist. Wacker began his art studies at the College of Industrial Drawing in Bregenz but soon moved to Vienna where he hope to enroll at the Academy of Fine Art. He failed the entrance examination and in 1911 switched his focus to Weimar, a then-known art school. His teachers were Albin Egger-Lienz and the illustrator Walter Klemm.
In 1914 Wacker was called to military service. In 1915, while on duty in Poland, he was captured by the Russians. He spent almost five years in Siberian prison camps where he processed his horrific experiences in diaries, which are mostly lost. The war years shaped the artist and his work.
In 1920 Wacker went to Berlin, then home to the avant-garde art scene. He stayed in Berlin for the next four years during winter and spring returning to his home in Vorarlberg for the summer. In 1922 Wacker married Ilse Moebius who he went on to paint many times. In 1923 the Vorarlberg State Museum displayed some of his works. They were not well received by the critics.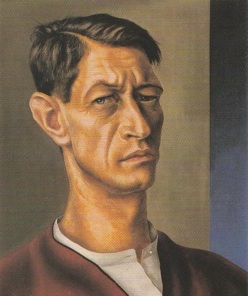 Wacker in a Self-Portrait of 1934
Wacker began working as an illustrator and graphic artist. Slowly, throughout the 1920's his approach to painting grew and changed. His first influence was expressionism. Stylistic elements of the "Neue Sachlichkeit" (New Objectivity) is also seen in Wacker's work. Today, the artist is considered one of the forerunners of the "Magischer / Phantastischer Realismus" (Magical or Magic Realism).
Although his parents supported him Wacker still struggled financially at this time. He work was exhibited and occasionally sold but he was not able to provide for his family through his art alone.
In 1926, together with other artists of the Lake Constance region, Wacker founded an art group known as "Der Kreis" (The Circle). In 1928 he sold his first painting to a museum. Wacker was interested exclusively in German contemporary art. Austrian painting did not interest him. Ancient art, especially the 17th century, particularly fascinated the artist.
In 1929 his only child, his son Romedius was born.
As the 1930's began Rudolf Wacker was keenly aware of the political climate, the risk of Nazism, and the possibility of a second world war. Unlike the majority of his colleagues, Wacker dared to criticize the Nazi regime. He wrote to his friends, marched at peace rallies, and called for active resistance.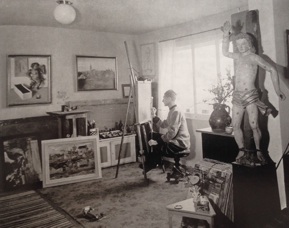 Wacker in his Studio
Wacker was accused of communism soon. His financial situation further deteriorated. Although he had several exhibitions in Vienna, due to the failing economy his paintings did not sell. The "Österreichische Gemäldegalerie" bought a Wacker still life. He tried to obtain a professorship at the Academy of Fine Art in Vienna, but was not even considered.
In 1934 the artist becan to experience some success. First, when he participated in the Venice Biennale. Then, from 1934 - 1938 he was a lecturer in drawing at the Bregenz trade school. In 1937 he visited the Munich Degenerate Art exhibit and was stunned to be see almost all of his role models and friends under attack.
After the invasion of Austria by German troops in March 1938 Rudolf Wacker was repeatedly subjected to searches by the Gestapo. In one search he suffered a heart attack; when summoned for cross-examination he suffered a second. Briefly his health improved but Rudolf Wacker died at 46 years old on April 19, 1939.
To this day, he remains one of Austria's most important representatives of the "Neue Sachlichkeit" and the "Phantastischer Realismus".